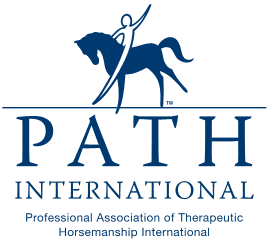 Specially Trained & Certified Staff
Our instructors are certified by PATH Intl. (Professional Association of Therapeutic Horsemanship). All instructors must complete a comprehensive training program which includes supervised student teaching, CPR and first aid verification, extensive reading, and riding experience. In addition to our human instructors, each of our horses undergoes careful screening to ensure he or she has the appropriate disposition, physical movement, and level of training necessary for therapeutic riding.
Melissa
Executive Director,

PATH-INTL certified therapeutic riding instructor
​
Melissa is currently our full-time instructor. She has always been an animal lover, a trait her mother kept waiting for her grow out of. Horses were her favorite, and she rode for pleasure as often as she could. Her summer jobs included working as a Horseback Riding Trail Guide through the Teton Nation Park in Wyoming, and working cattle on a ranch in Nevada. Melissa studied Animal Science at Ricks College. While there she met her husband-to-be who convinced her to marry him and move to Basin City, WA with him. It was the best decision of her life. She completed her Child Development Associates and worked for several years as a Preschool Teacher before staying home to raise four children. During that time, as her family schedule allowed, she often volunteered at Strides to get her "horse fix", but found that it was helping the riders that kept her coming back for more. In 2015 she decided it was time to get a job outside of her home, and so began her journey to become a PATH-Intl certified therapeutic riding instructor. She accomplished that goal in April of 2016.
​
​
​
​
​
​
Kellee
PATH-INTL certified therapeutic riding instructor
Kellee is one of our part time Therapeutic Riding Instructors. She works as a Certified Occupational Therapy Assistant (COTA) at the Children's Developmental Center in Richland, WA providing early intervention services for children ages birth to three. She also holds a per diem position at Avalon Health Care in Pasco, WA. Prior to moving back to Tri-Cities, Kellee worked as a COTA for the Idaho State Veterans Home in Lewiston, ID from spring 2017 to fall 2018. Kellee graduated from the University of Idaho with a Bachelor of Science in Exercise Science and Health in 2015 and received her COTA degree from Spokane Falls Community College in 2017. Kellee has more than 20 years of equine experience including a variety of disciplines such as reigning, jumping, drill, western, and english riding. She competed in 4-H, WAHSET, and both high-school and college rodeo. Currently, she competes in open barrel races and enjoys taking her horses on overnight trail rides. Kellee began at Strides spring of 2015 as an intern and obtained her PATH-Intl certification as a Therapeutic Riding Instructor in August 2015.
​
​
​
​
​
​
​
​
​
​
​
​
​
Ethan
TRI Assistant, Assistant Barn Manager
​
Ethan has been a volunteer at Strides since August 2018, but his first introduction to therapeutic riding was in high school in his home state of New York. There he saw the impact horses can have on people's lives and knew he wanted to work with animals in some way. He graduated college with a bachelor's degree in animal behavior and biology, where he also minored in anthrozoology, the study of human and animal interactions. Having animal training experience, he is excited to use his skills and knowledge at Strides, and is currently our assistant barn manager, as well as an instructor in training working to become a certified riding instructor.
Kim
TRI Assistant, Equine Specialist in Mental Health & Learning certified
​
Kim joined Strides in 2018. As a volunteer, she wears many hats including assisting during lessons, horse exercising, and sitting on the Board. Kim has a Master's Degree in Social work and holds a Licensed Social Worker Associate Independent Clinical (LSWAIC) certification. Her specialty is working with adults that have experienced traumatic brain injury, stroke, or dementia, however, she also has 5 years experience as a Child Mental Health Specialist (CMHS). This past spring, Kim began the process of becoming an Equine Specialist in Mental Health and Learning (ESMHL) through PATH International so that she can incorporate both her passion for horses and her experience in mental health to support people seeking healing through horses at Strides. Growing up in the horse world, Kim understands the impact horses can have on a person's life. She is excited to share the healing qualities of horses with others in the Tri-Cities community.
Tori
Event & Partnership Coordinator, Board President
​
Tori has been a horse lover ever since she was young. Her dreams came true one Christmas when she got her first horse, Bingo. Shortly after she was diagnosed with PTSD. Her time with Bingo, in conjunction with therapy, helped her gain control and overcome. Tori joined Strides in 2017 as a volunteer. Given her drive and dedication towards Strides's mission and vision, Tori was named Strides's first Event & Partnership coordinator. Her organization, attention to details, and personal experience with the power of horses to heal, have made her a great asset. Her favorite quote, "Keep your face always toward the sunshine and shadows will fall behind you." -Walt Whitman
Keely
Design & Marketing Director
​
Keely joined Strides when she began the Kadlec hippotherapy program in 2014. Besides her education credentials (Doctor of Physical Therapy, Hippotherapy Clinical Specialist, and a major in Human Biology), Keely has been a local business owner since 2014. She is self-taught artist in multiple mediums including pencil drawings, oil painting, and photography. Her business is Pieta Elegante Photography. When Strides remodeled itself in 2016 while relocating to Pasco, WA, Keely increased her volunteer time to help build Strides's internet / social media presence and marketing. Besides being the Strides Design & Marketing Director, she helps train the therapy horses and teaches new volunteers horse handling techniques to better their skills for our clients.
Garrett
Facilities Director
​
Garrett first came to Strides in September of 2017 with his oldest son who had a newly found interest in horses. Coming from a family with a few horsemen, Garrett experienced horses as a child, and this time at Strides would serve as a reunion of sorts from a 20+ year hiatus. Time spent in his previous careers in the automotive and electrical fields afford him the experience and expertise to repair just about anything on the property. Garrett loves helping people, horses, and tinkering with mechanical things / building things. The opportunity to serve at Strides achieves the perfect convergence of these passions.
Sarah
Assistant Volunteer Coordinator
​
bio coming soon
Karla
Spanish Family Coordinator
​
bio coming soon